Miniature Crossbows Are Here!

CHINESE REPEATING CROSSBOW

Micro-weapons is a new company from the Pacific Northwest dedicated to design and build miniature/micro/small weapons for all types of customers.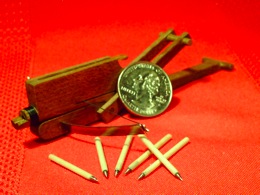 Whether you are a Collector, a Business Executive, a Renfaire Traveler that loves good craftsmanship and attention to detail, these small weapons are right on target for fun!


The earliest representations of the crossbow are from 400 BCE China. In 209 BCE the Chinese army enlisted over 50,000 crossbowmen to fight with mass-produced bronze weapons.
These crossbows, which were one of the most important weapons in war until the rifle was invented, could fire slightly over 600 feet.
The first pictorial evidence of European hand-held wooden crossbows date to about 1200 CE. Having been introduce by Asia during the Crusades, they were initially outlawed by the religious leaders of that time, and considered crossbows to be inappropriate for "religious" warfare. However, their effectiveness in battle soon outweighed theological concerns. Since then, crossbows have been used in many wars up until the 17th century. They are a collector's item and are still used for sport today.


WE ARE GROWING...

As our site develops, we will be able to offer more of the items you want!

But for now, enjoy the following Micro-Weapons creations:


Chuko-nu/ Chu-ke nu (Chinese Repeating Crossbow), in miniature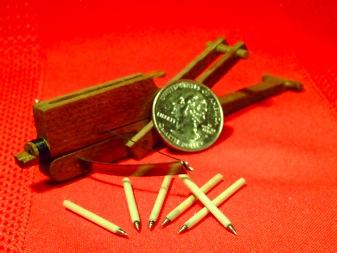 DUE TO THE UNIQUE-HAND MADE APPROACH TO OUR PRODUCT- THEY MAY BE ON BACK ORDER. WE WILL LET YOU KNOW ONCE YOU HAVE PLACED AN ORDER.